Let's face it, after a few years living in one place it's easy to accumulate a lot of stuff, from books and clothing to electrical appliances and ornaments. It's natural to think about decluttering your home before you move and whilst for many it's a big task, sifting through years of personal belongings can make it an emotionally fraught, as well as time-consuming process.
In this feature we talk about the emotional impact of moving home, from the practical and organisational aspects, right through to how it can impact wellbeing, finally revealing ways that will help to ensure you minimise any negative impacts and get through the process relatively unscathed.
Guide Contents
---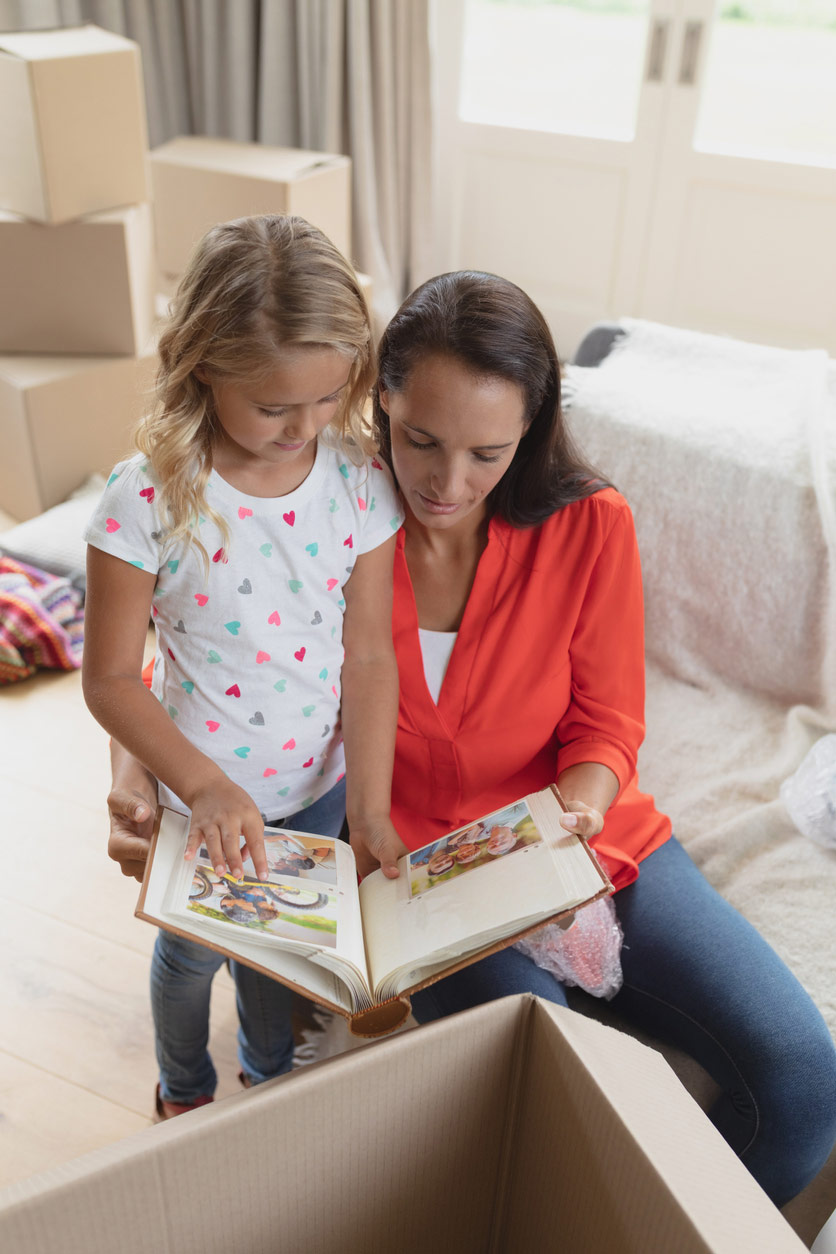 Moving home is a bit like a difficult childbirth. Immediately afterwards you vow to never put yourself through it again, but as the year's roll by, you forget the trauma and the stress fades until one day you decide now is the time to do it all again. Selling your home and moving is one of those life events that's undeniably stressful. It takes a lot of time, energy and resources and is a process that can take many months or even years to complete.
Most of us will need to tidy up and have a good clear out in preparation for a forthcoming move, which on the face of it sounds easy enough. This is just one small aspect of putting your house on the market and moving though, which can be daunting in itself. It can also easily end up taking far more time than you'd anticipated to complete!
Whether it's old family photographs that stop you in your tracks and half an hour later you find you're still sat there happily reminiscing having made no further progress, moving boxes still empty; the unearthing of old school reports or favourite toys belonging to children who have since grown up or treasured family heirlooms you'd forgotten you had; decluttering and packing isn't as straight forward or as quick as you might imagine and it's all too easy to get side-tracked.
Could Getting Distracted Be A Good Thing?
But is all that distraction a bad thing? We don't think so, and that's because happy memories can help to relieve stress, so taking time to stop and sit with your memories for a while isn't a bad thing at all, but it can double the amount of time it takes to sort and tidy up any particular room or storage area if you're not careful!
We all know that moving home is stressful and uprooting yourself and your family after many settled years in the same place means that taking time out to sit with your memories can be quite soothing and reassuring amidst all the turmoil of a pending move.
The uncertainty of moving to a new area can often leave us feeling a little overwhelmed – our homes are packed full of memories, hopefully most of them happy – but the act of sorting through belongings before packing them away can trigger a range of emotions. The actual packing process too can be overwhelming as we assemble moving boxes ready to fill, the scale of the task ahead will become more apparent.
For this reason we recommend starting the process as soon as you can. You're bound to get side-tracked sooner or later and if you're pressed for time, you won't be able to take time out to enjoy what you have or to contemplate.
The Psychological Impact of Decluttering
Many decluttering experts caution that if it's not beautiful or useful and you've not used it in the last 12 months then it should go, but human psychology is far more complex than that and we often make emotional and perhaps even a little irrational decisions (take for example obsessive collecting and hoarding) particularly when it comes to what we fill our home with. So when it's time to decide which of those items has enough sentimental value to warrant keeping, a complex tangle of emotions can come into play.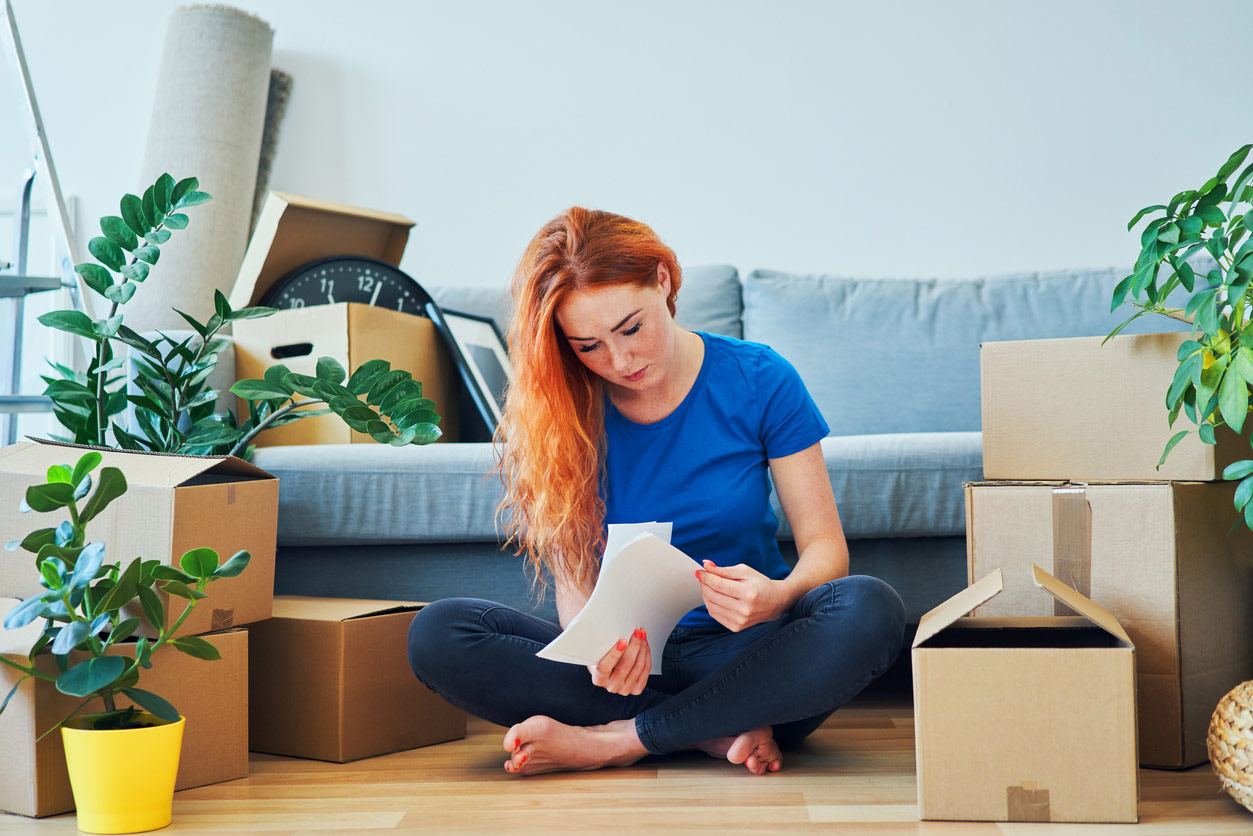 As well as stirring up happy memories and encouraging us to pause in order to reminisce about the past, moving can potentially cause a real state of anxiety, from feeling overwhelmed by the mammoth task of sorting through and packing your life away ahead of your move, to surfacing feelings of isolation, sadness, loneliness and uncertainty.
That said, decluttering can be an extremely cathartic experience. It's a process that can help you let go of elements of your past and it can be energising too as you make decisions about which belongings are important enough to pack into boxes take with you when you leave.
Of course the practical side of decluttering your home means that you will have less to pack away into moving boxes and you'll create more space in your home as a result, but aside from the purely practical, what are the emotional benefits of decluttering before you move home?
The Emotional Benefits of Decluttering
Decluttering Instils a feeling of control which can help to reduce anxiety. Whenever there's a job to do around the house, think of the calm feeling of relief you get when it's done. Or how about considering your work to-do list and that satisfied feeling when you've ticked off everything off and it feels like a weight lifted from your shoulders – decluttering is no different. Once completed, it's likely you'll feel calmer and more in control as a direct result.
The process of sorting through your belongings allows you to daydream, reminisce and recall positive feelings, for example, an ornament you bought home from your travels, a gift given to you by someone special or photographs of happy times. Positive associations and memories can help boost your mood and make you feel happier.
Decluttering can cause lost treasures to be unearthed. We're not talking about gold coins or rare antiques or anything quite so grand (though that would be nice!), but we all have sentimental belongings given to us by someone special, passed down to us or purchased by ourselves and since forgotten about. These can bring joy or fulfill a practical purpose, helping to boost our mood as we continue the decluttering process.
Decluttering is often accompanied by cleaning, removing things like dust, dirt and pet hair from your home. This can help to reduce allergy symptoms and even relieve some respiratory conditions too.
You can find out more about some of the emotional benefits of decluttering here and if you're not sure how to get started, you can read 5 pro tips to help you declutter before you move home.
Should You Pack it, Recycle, Donate or Sell it?
When decluttering it's important to get rid of anything you may no longer want or need in your life in the most environmentally responsible way possible. From recycling to donating to charity or selling it, once you've made the decision to get rid of something, the next step is to decide what the best thing to do with it is.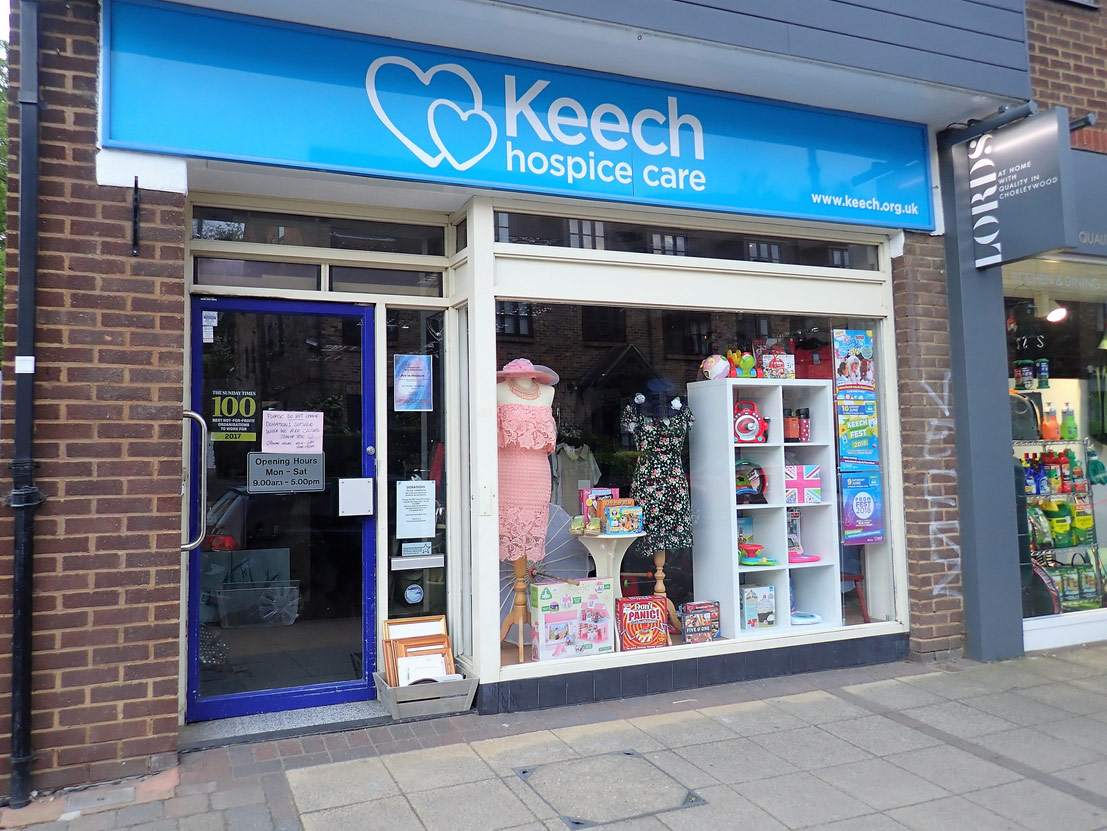 One of the benefits of donating to charity is that something that might have cost you a fair amount of money or something that's still in perfect working order, will be given a new lease of life. Not only will it be passed on to be used and appreciated by someone else, but it will raise funds for charity, which does have a feel-good factor attached to it, helping to cut down on some of the guilt you might feel for getting rid of things that are still perfectly serviceable.
That said, whilst taking everything to your local charity shop or dumping it all in the bin might seem like the easiest thing to do, it's worth considering the following;
Find out in advance what items your local charity shops are in need of and find out if there are any items that they don't accept or want
Give items still in good working condition away by joining your local Freegle group many items in good condition will be snapped up fast by people in genuine need of a freebie
Before deciding to sell something online, take a look to see how much similar items are going for, then ensure you factor in selling costs, postage and packaging as you might find it's simply not worth the hassle and it will be easier to give it away instead
When taking items to your local recycling centre remember that you'll need items to be sorted by material. Don't just dump everything in a bin bag; make sure cardboard, recyclable plastics, metals and so on are all separated out in advance to make life easier
The Psychological Impact of Change
Moving often requires upheaval, leaving friends and family behind and necessitating a change in things like workplace and schooling. Children may be anxious about starting a different school and making new friends and for adults, establishing yourself in a new area and can feel just as daunting.
All these feelings can be compounded if you're being forced to move out, for example, due to a change in personal circumstances such as divorce, illness or debt, all of which can make the process extremely difficult emotionally.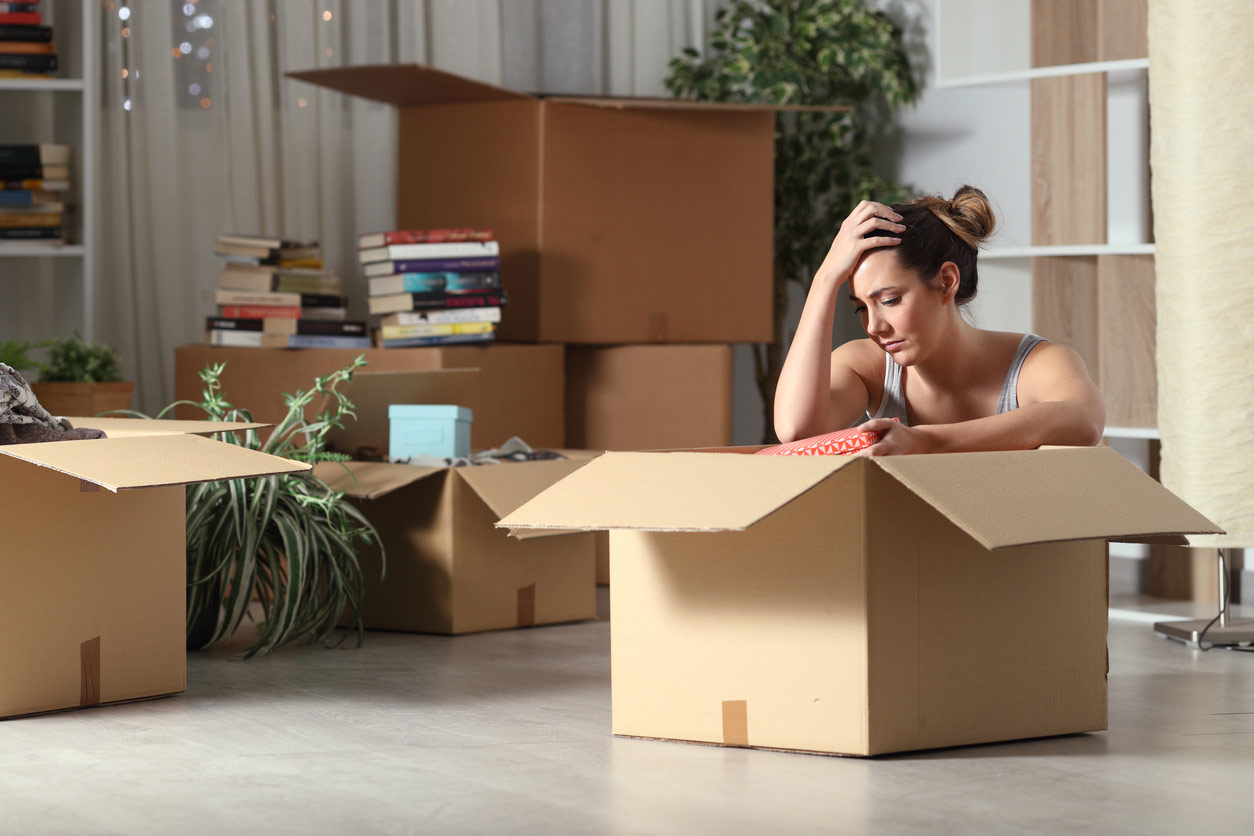 This whirlwind of emotions isn't surprising especially when considered in relation to Maslow's hierarchy of needs, a theory of psychology which seeks to explain what drives us. The theory comprises five separate stages, each of which addresses needs that are thought to contribute to our feeling of security, self-worth and ultimately, happiness.
As humans we have a fundamental need for food and shelter, which forms the first stage, the second relates to our need to feel safe and secure – both of these stages imply that the roof over our heads is crucial – whilst the third stage relates to feelings of love and belonging which can also be greatly impacted by an impending move.
When these fundamental human needs are not being met, even temporarily, it's not surprising the uncertainty caused by moving home can have such a big impact on our emotional state.
As well as challenging our sense of security, moving can cause stress thanks to;
Changes in routine
The amount of time and physical effort needed to prepare for the move
Fear of the unknown and change
Leaving friends and family behind
Financial worries, for example affording your new mortgage repayments
The Holmes and Rahe Stress Scale
Back in the late 60's psychiatrists Thomas Holmes and Richard Rahe conducted a study in order to find out whether stress contributes to illness and weighted various life changes, the higher the score, the more likely it was that someone could be negatively affected. This resulted in a widely referenced "stress scale" which rates different life events in terms of the stress they are likely to cause.
Often, it's not just a move that can affect our stress levels, but many of the life events that go hand in hand with a move. For example, divorce, retirement, a change in job and so on. Add these life events up and it's no wonder that the change caused by moving home can have such a big impact on stress levels.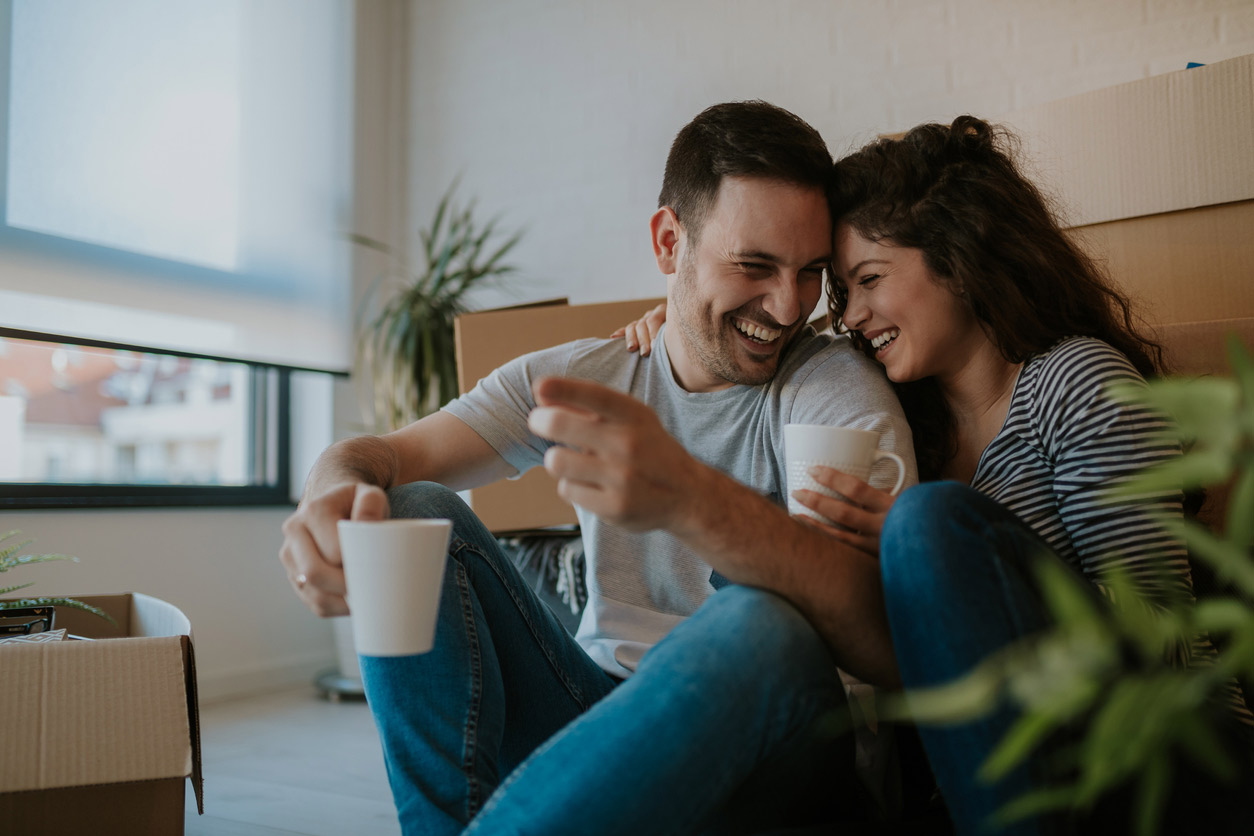 How to Make Moving Home Less Stressful – Make It Mindful
Our advice is to first accept that moving home is stressful and hard work, there's no getting away from it. It can be taxing not only on a practical level as you physically have to sort through cupboards and boxes, but on an emotional level too. It's important that you don't beat yourself up if there are times when you feel a bit overwhelmed, particularly if your move is being forced upon you.
To stop your move feeling like an insurmountable challenge make a list, tackle things methodically and set a realistic timescale. Don't think you can sort through everything and pack all of your crates or boxes ready for your move the weekend before! It's likely to take far longer, and actually taking longer can help reduce stress too as you tackle jobs room by room, or even one item of furniture or storage box at a time.
Allow yourself plenty of time to sift through your belongings and do take time out to reflect on happy memories. If you feel an emotional pull to something you own, then keep it and take it along with you to your new home and don't feel bad if you aren't willing or ready to throw everything out in the name of decluttering! You want your new house to feel like home, so getting rid of too many personal belongings could make the new property feel even less like home when you eventually move in.
Do what feels right for you and don't feel like you need to erase your history by getting rid of too much – make sure you keep hold of belongings with sentimental value and make it mindful. Your belongings should be useful and practical, of course, but things you have that bring you joy, make you smile or remind you of happy times are just as important.
Spend the time it will take to sort through your belongings and packing moving boxes in healthy reflection and this can help turn what can be a daunting and laborious process into a mindful activity that could help to enhance your wellbeing.
If you want to know more about unpacking, take a look at our article that highlights the best way to handle the unpacking of boxes after you move home, and finally, if you feel overwhelmed by it all, take a step back, make a cuppa and take a few deep breaths and don't be afraid to call on friends or family for some help.
Further Home Moving References & Resources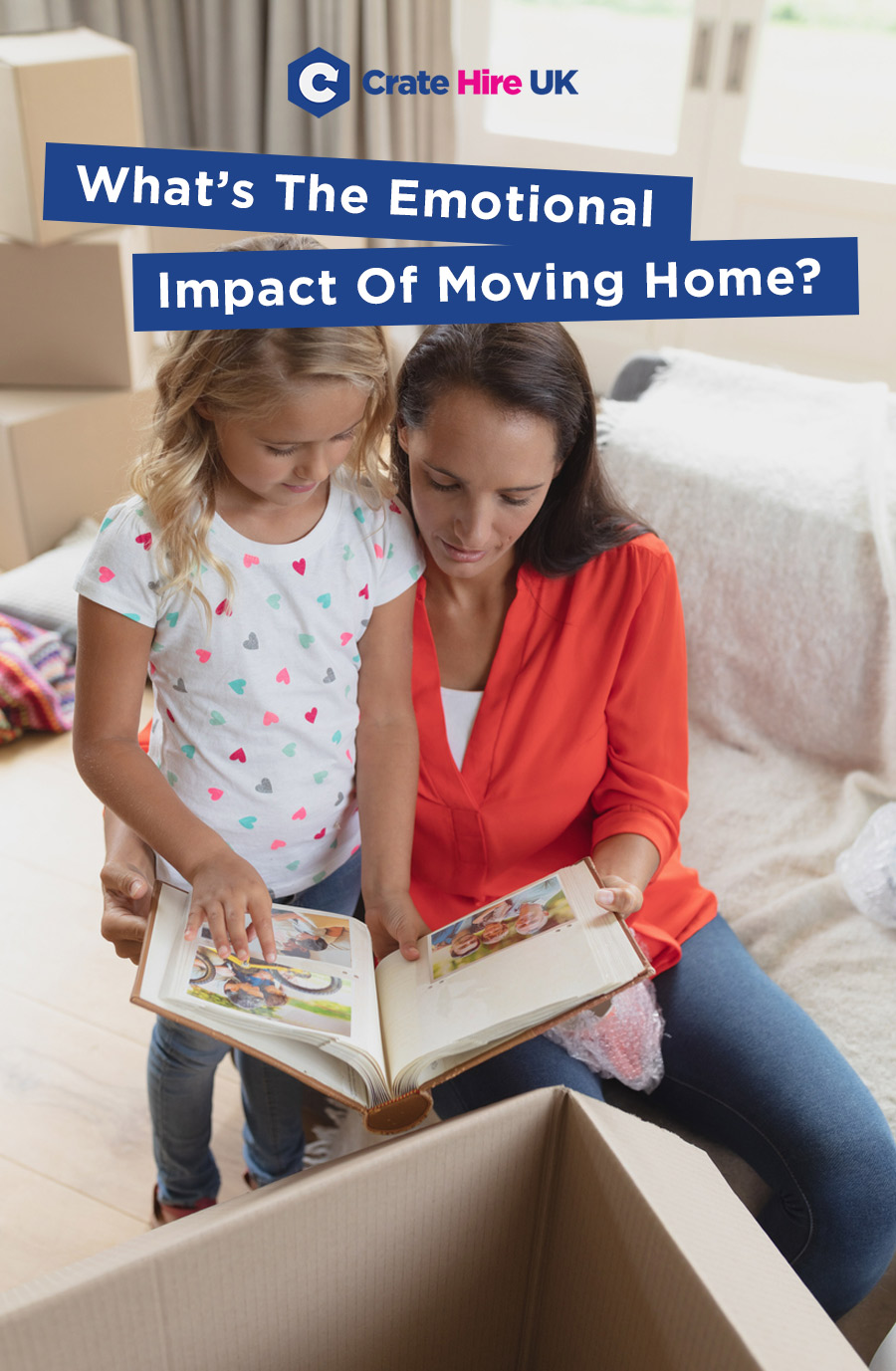 For tips and information on all things moving related, follow us on Facebook, Linkedin or Twitter