How To Order - How To Hire Crates
Online Crate Hire Guide
Placing an order with Crate Hire UK couldn't be simpler. We've made booking your moving crates and buying your packaging and moving boxes quick and easy with our simple 3 step process! If you need a hand or have any questions at all then don't hesitate to get in touch with us on and find out for yourself why our customers rate our customer service so highly!
Order By Phone on 0845 835 4870 or Easily Book Online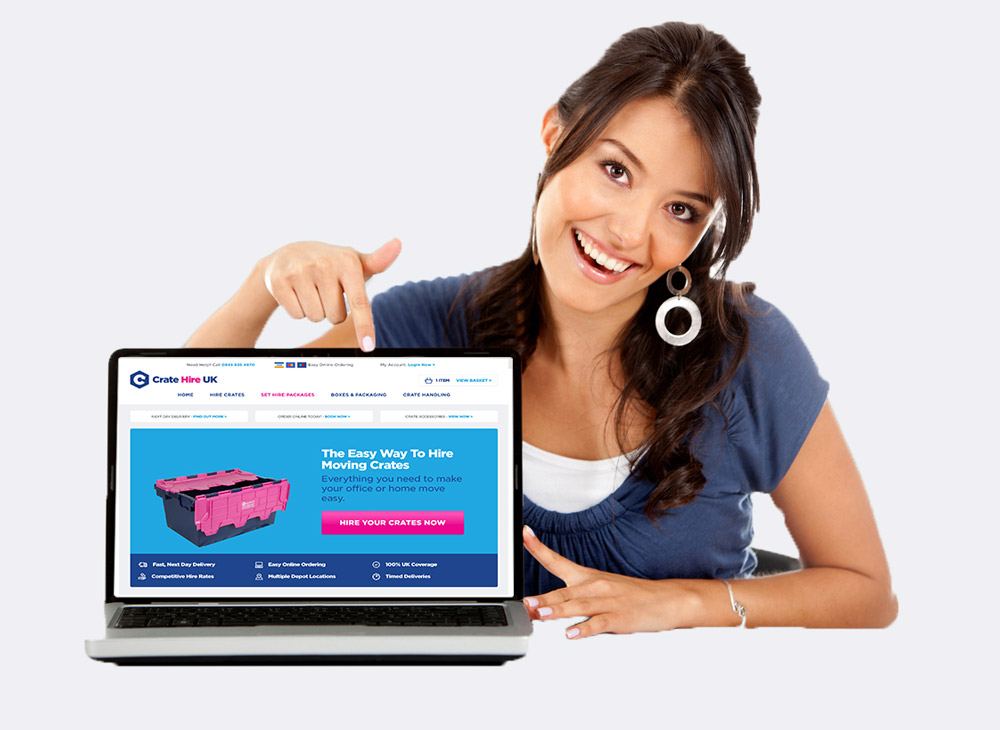 Online Guide
Step 1 - Select The Products You Want
Our product pages allow you to see our comprehensive range of moving crates and boxes as well as handling equipment and moving packaging. By choosing and double clicking a product from the page it will allow you to see a more detailed view including pricing that will help you decide whether it is suitable for your move or storage application.
If you are unsure of what crates and packaging you require our crate calculator takes the hard work out of guessing and recommends a crate hire package depending on the number of staff or people you are moving. There is a separate calculator for both home and office moves to give you a more suited recommendation for your move.
Once you are happy with the crate or packaging item, you can then enter the quantity you need in the box provided and click ADD TO BASKET.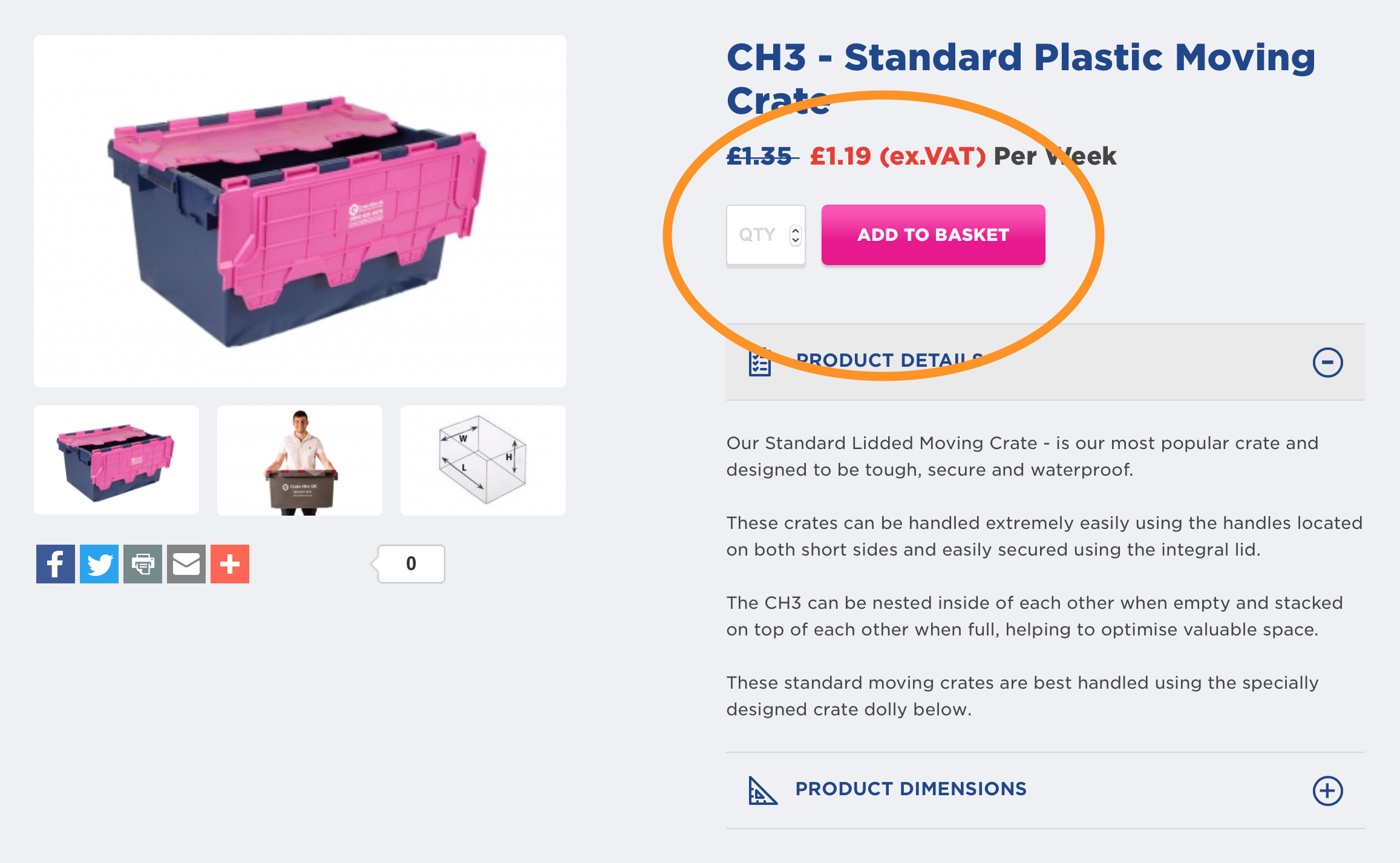 A confirmation will then show on screen acknowledging you have added the equipment and quantity to your basket. You can then add as much equipment needed to facilitate your move in the same way until you are happy with your basket of equipment.
Clicking VIEW BASKET from the top right corner of the page will then take you to your basket. You can see all items you have placed in your basket and we may provide additional recommended items you might need at this point. By clicking ADD TO BASKET on a recommended item will add it/ them to your basket.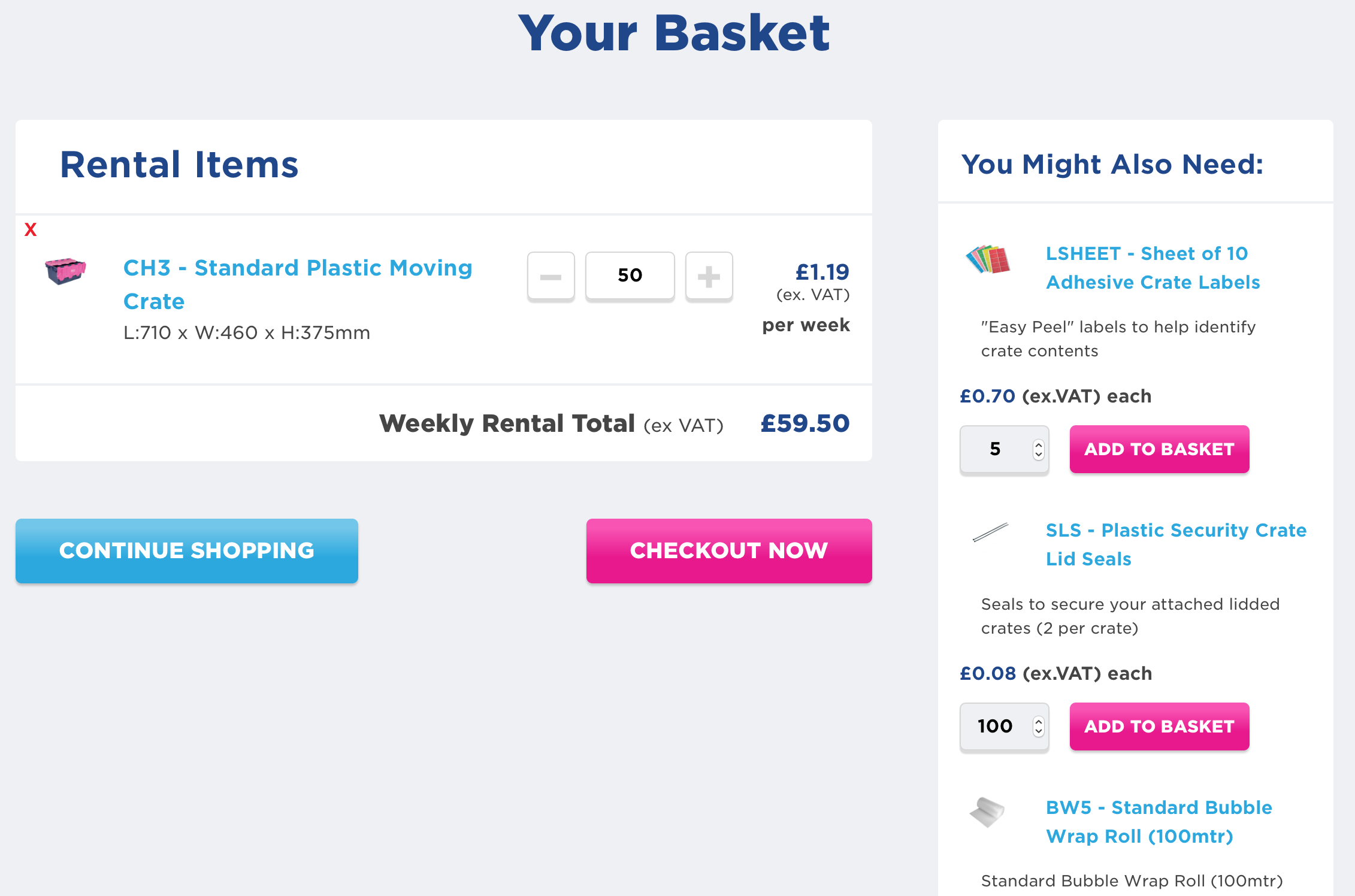 If you are happy with the contents of your basket you can CHECKOUT NOW to start the Crate Booking process. If you still feel you need additional equipment at this point, the option to CONTINUE SHOPPING (this will take you back to the product pages) is available to you.
Step 2 - Choosing Your Delivery And Collection Options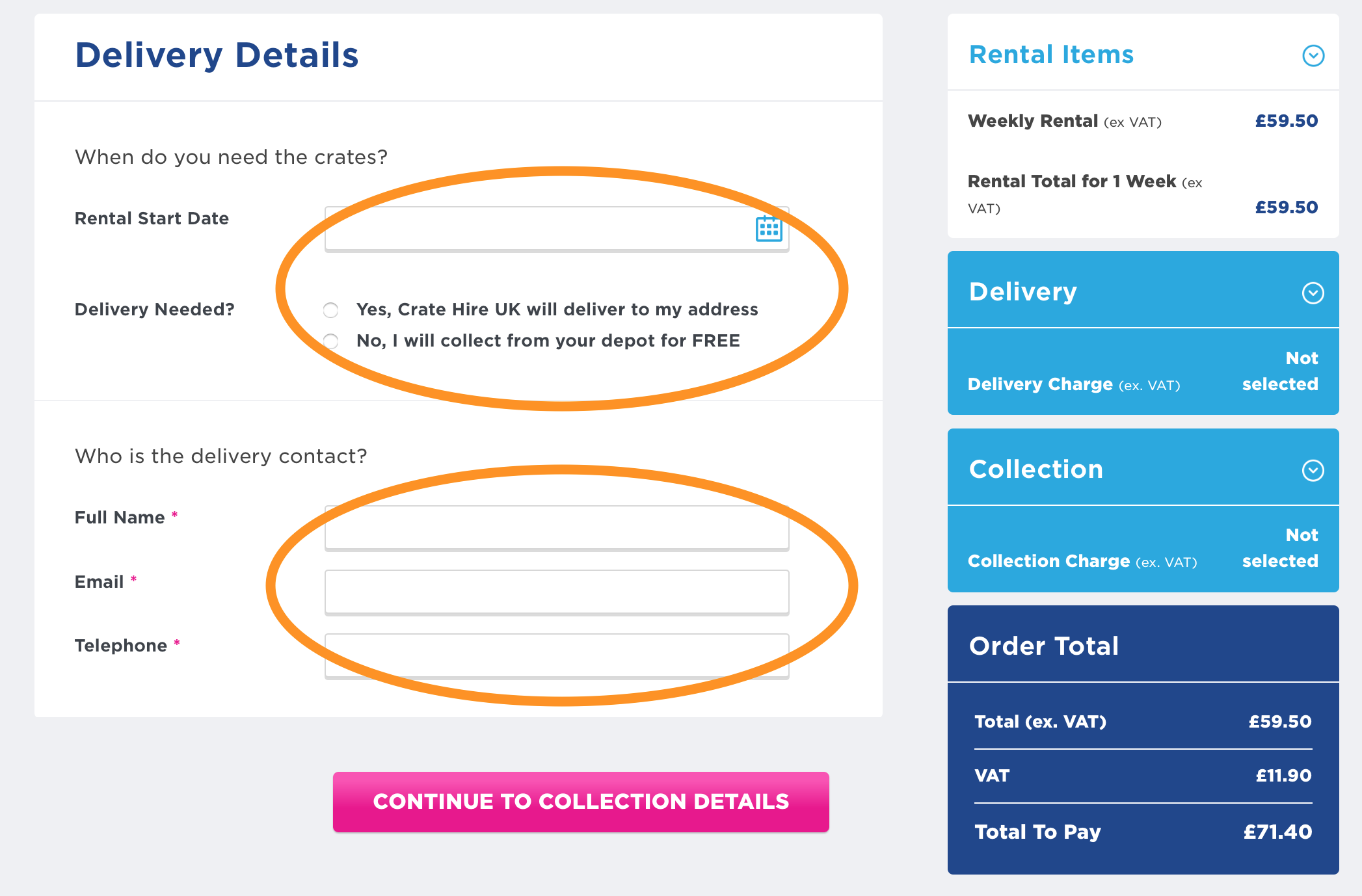 Choose and pick the date you need your crates and any equipment, then select whether you need your equipment delivered to you or instead you wish to collect from one of our eight depots.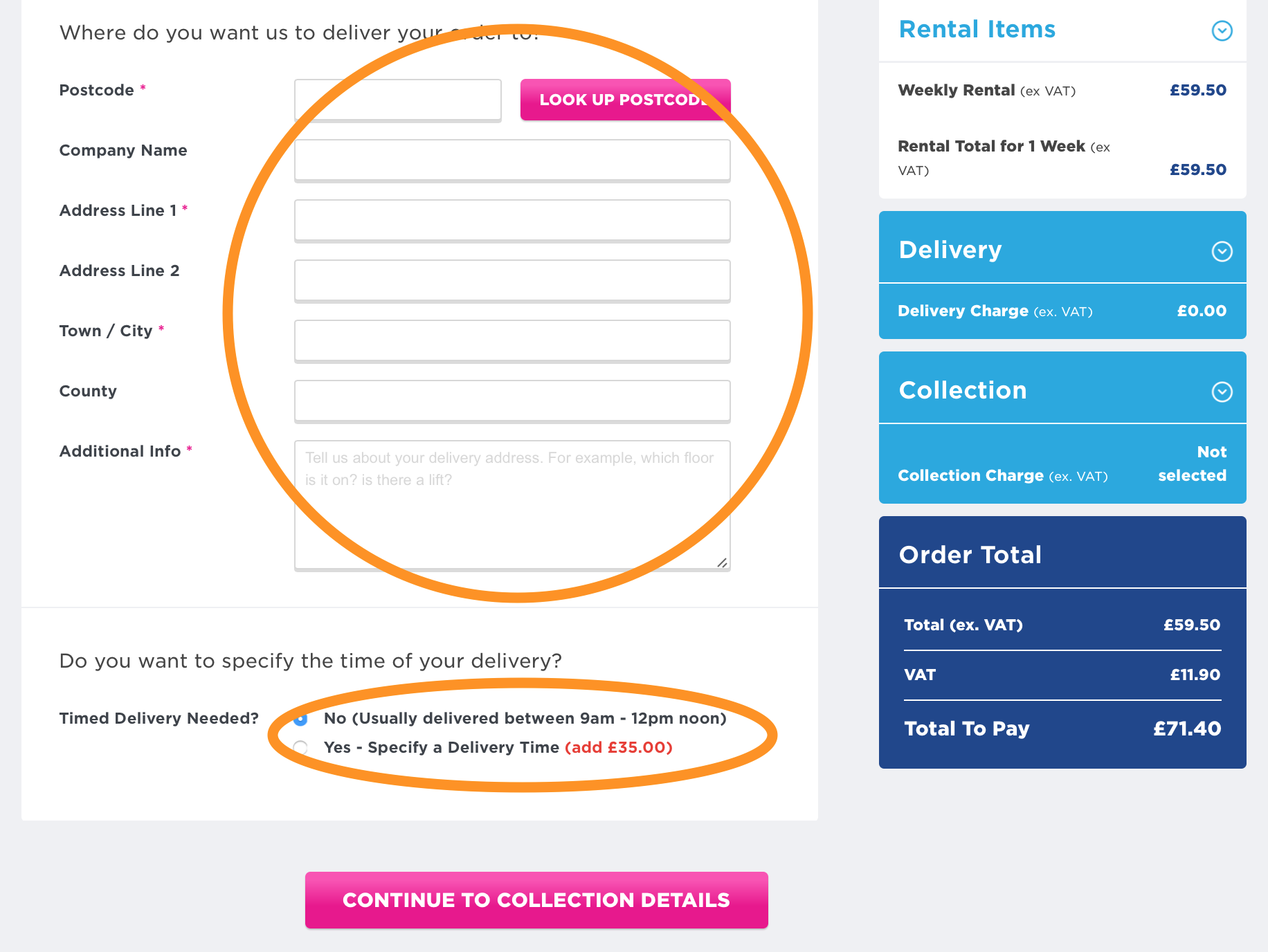 If requested, enter the delivery address for your order and if a specific time for delivery is needed click Yes - Specify a Delivery Time and choose the time convenient to you. Once you have entered your details click CONTINUE TO COLLECTION DETAILS.
Repeat Step 2 for your collection option and click CONTINUE TO PAYMENT.
Step 3 - Enter Your Payment Details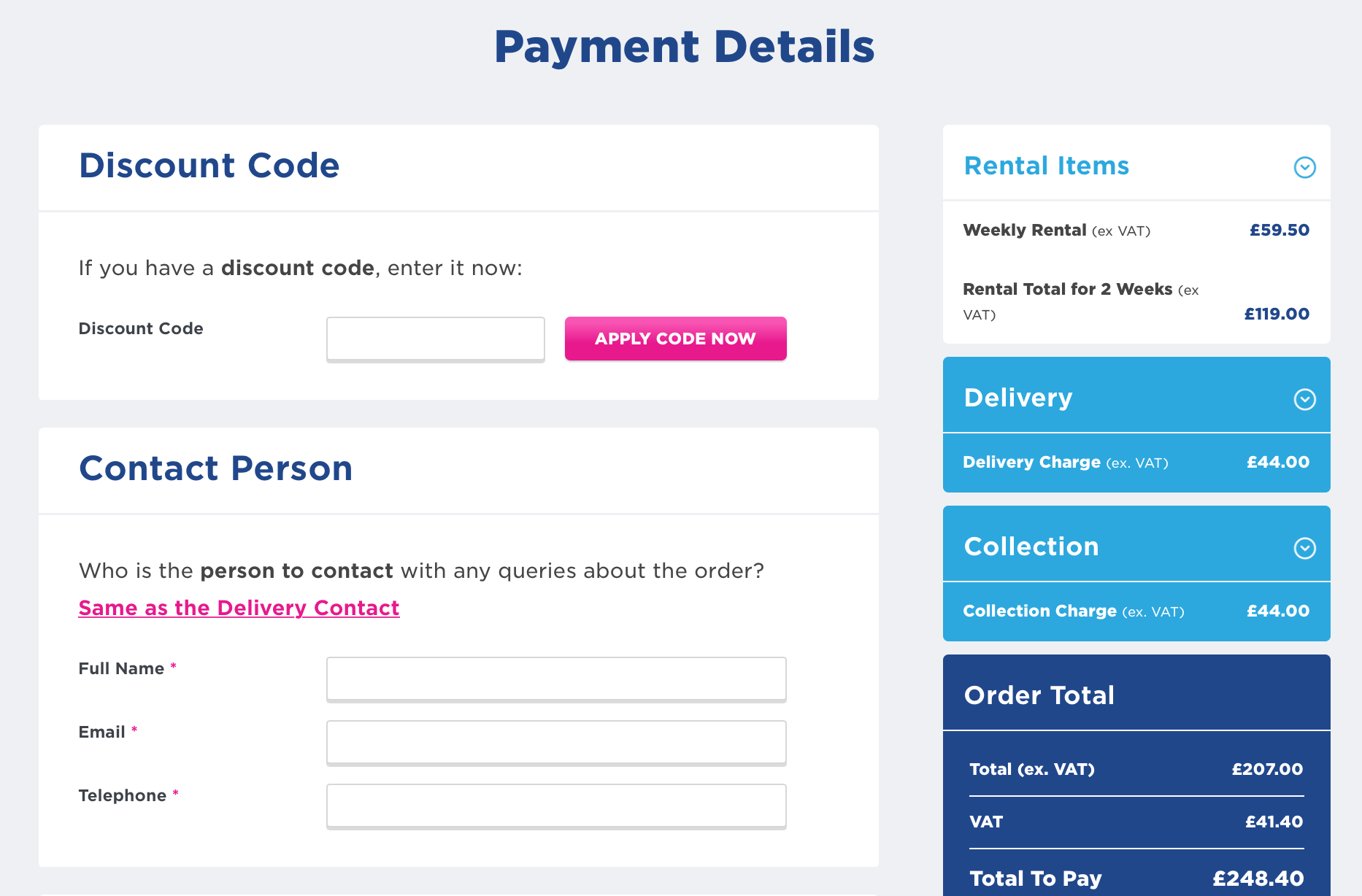 If you have a discount code due to a promotion enter it in the field and click APPLY CODE NOW, any discount will be calculated from your total to pay. You will then be asked for the details for the MAIN contact for your order (All confirmations and notifications will be emailed to this contact).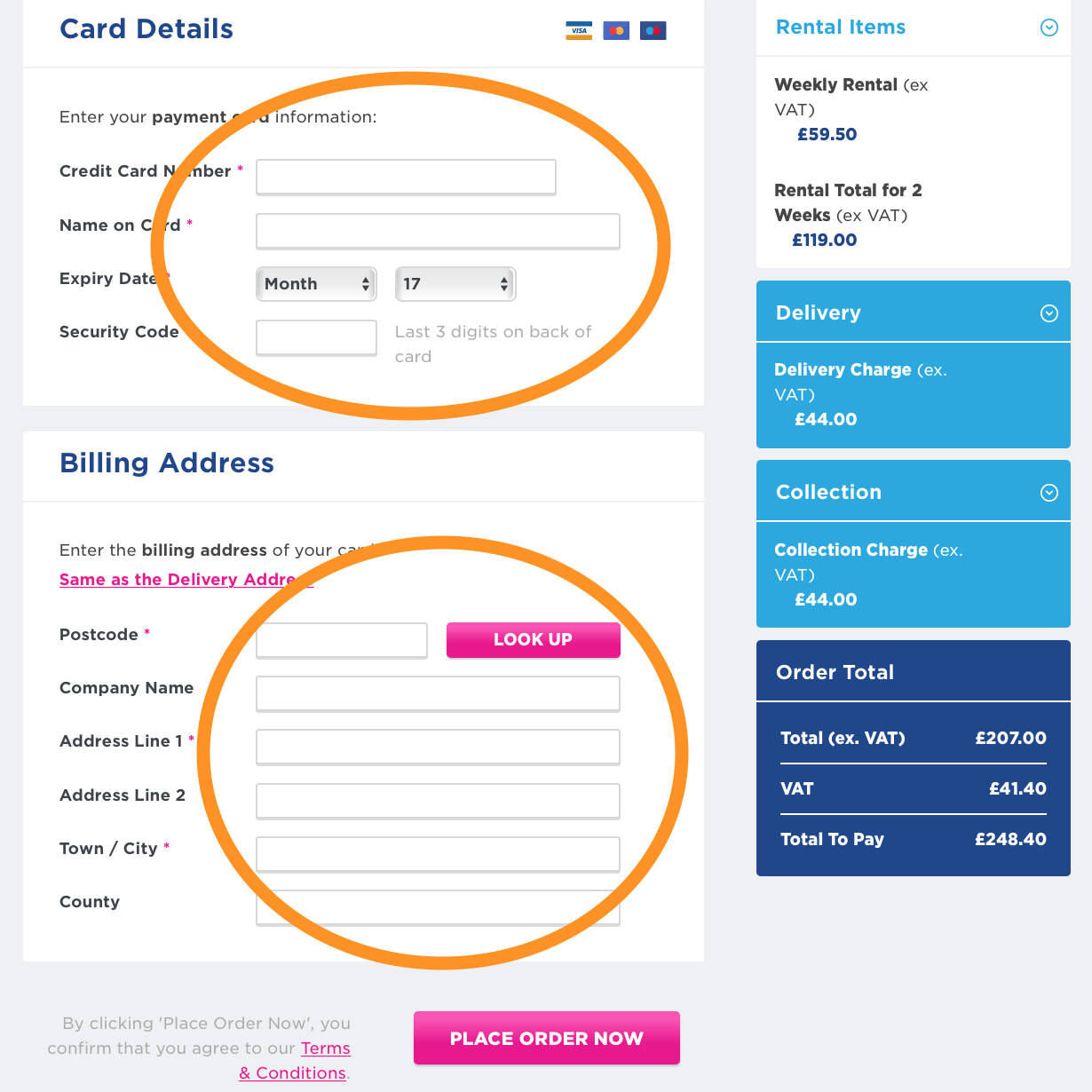 Enter your preferred payment option including Name On Card, Card Number and Expiry Date. Enter the payment card's registered address and if you accept our Terms and Conditions for your order click PLACE ORDER NOW.
Voila! Your crates have been booked and an Order Confirmation will be sent to the Contact Person's email address given. The Order Confirmation has a link to your VAT invoice for your records.
If you have any further questions, then take a look at our crate hire FAQs page or get in touch with us here.