Have you ever wondered how our big blue, robust moving crates are made? Check out our latest video which takes you through the crate hire manufacturing process.
You can see the video over on our YouTube channel below.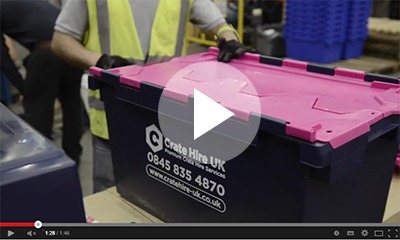 The process starts with millions of pieces of raw plastic granules which are fed into the moulding machine
The plastic granules are then heated until they turn into liquid form. They are coloured and then injected into a large mould to create the main body of the crate.
The lids for our crates are made in the same way, using a smaller lid mould.
Both parts of the lid are hot foil printed with the Crate Hire UK logo and our contact details.
The full crate is then assembled, ready for dispatch to help you with your home or office move.
So there you have it, the process of our durable moving crates are made.

For tips and information on all things moving related, follow us on
Facebook, Linkedin, or Twitter