At Christmas time many of us have guests come over to stay, making an already busy time, even busier! Our tips will help you get your home ready for Christmas guests.

There is always such a lot to do at this time of year, what with Christmas shopping, writing cards, gift wrapping, the big grocery shop, visiting family and friends, the kids school plays and a last minute rush at work to tie up projects before the end of the year.
With a bit of forward planning, it is possible to relax when Christmas guests come to stay
With so much going on, it's easy to get stressed out and to end up spending the whole of December rushing around – not really the best way to instill a sense of Christmas cheer!
But being organised is the key to making sure the festive period is merry rather than murderous. Many of us will travel to visit family and friends all over the country over this time, but we'll also often receive many of our own visitors into our homes too, both in the run-up to Christmas and over the New Year period.
To make sure you can focus on being the perfect host (and take some time to actually have some fun yourself!), we recommend getting your home in order well in advance, ensuring you've done all of your Christmas gift shopping finished and out of the way early, that you've ordered enough food and drink and have washed and laundered the bedding in advance will help to make the whole experience easier for you and more pleasant for your guests!
Christmas Guest Checklist & Tips
Make sure you've put clean bedding on the guest bed(s).
We recommend doing your grocery shop online to avoid the crowds and traffic jams that always occur in the few days running up to Christmas but do make sure you've booked your delivery slot early.
Short on pillows or similar? Don't be afraid to ask your guest(s) to bring extras with them and remember that most people sleep with 2 pillows.
Make up the sofa bed in advance, or If you don't have enough beds to sleep everyone and don't want the added expense of having to buy temporary guest beds, consider borrowing camp beds or air mattresses from a friend, or ask guests if they can bring something with them.
Make sure you are aware of any food allergies or special dietary needs of your guests before you do your grocery shop so you can make sure that everyone is catered for.
Guests need feeding the following morning, whether that's boxing day or New Year's Day, so make sure you buy in extra and don't forget to keep it simple, a choice of bacon sandwiches, croissants, toast and breakfast juice makes the ideal choice.
Scented candles and reed diffusers will give your home a lovely welcoming smell, so pay attention to the general ambiance of your home too. Aim for a warm, cosy, home from home feel to put guests at maximum ease.
Clean and vacuum the guest bedroom(s) and bathroom(s) in advance, make sure there are extra toilet rolls too.
Put out fresh towels for your guests to use. It's best to fold and place these on individual beds.
If you will be playing games, for example on the Wii, make sure you've got enough batteries and know where all the controllers are. Likewise, if you'll be playing board games, make sure you have enough pens, pencils and paper pads for score taking and scribbling quiz answers down.
Make sure your first aid box is well stocked for guests who might need hangover remedies the morning after.
Have a general tidy up and set aside an area where guests can hang their coats and leave their shoes.
Let guests know that in the morning they can help themselves to tea, coffee etc and let them know where everything is. Alternatively, let them know what time you intend to get up to sort out their breakfast.
Set an alarm for the morning after so you can make sure you're up at a decent time to care for the needs of your overnight guests. It's can be awkward waking up a few hours before the hosts, hungry or thirsty and not wanting to go rooting through their kitchen, unless of course they've told their guests it's OK to do that.
Why not take a look at our tips on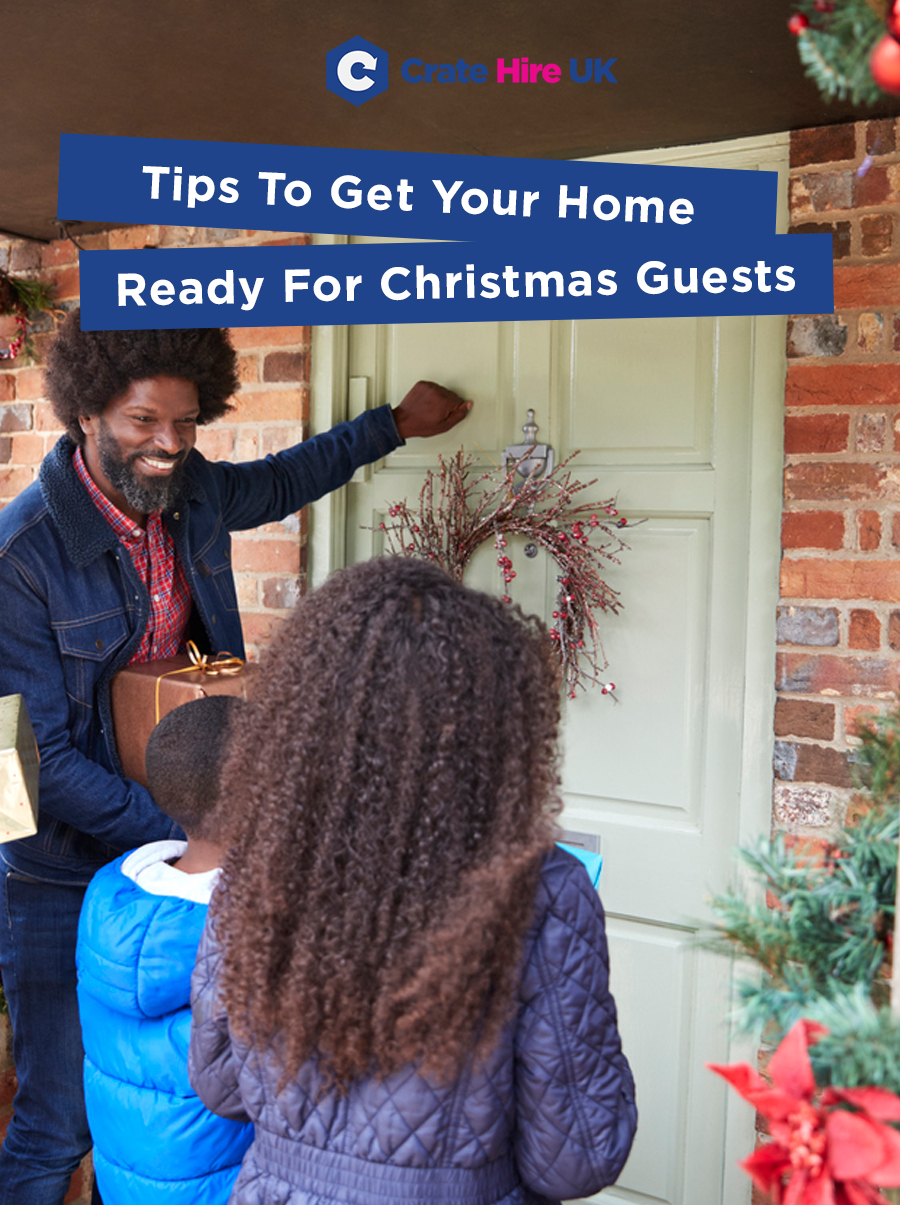 For tips and information on all things moving related, follow us on
Facebook, Linkedin, Twitter or Pinterest