Based In London, With Local Depots All Over The UK!
Here at Crate Hire UK, we understand that people want to have a smooth and hassle-free crate service. One of the things that help us to do that is our regionally located crate hire depots. For anyone moving and looking for a way of reducing the cost, hiring your moving crates from us is an excellent way of achieving this.
The Cost-Effective Way To Move!
Customers wanting to keep the cost of moving to a minimum are highly likely to think about hiring a van. However, with transportation sorted, you'll also need to look at arranging suitable moving boxes to pack all of your household belongings.
Sturdier than boxes, plastic crates when rented from a local supplier, can provide an excellent, cost-effective option. As well as ordering and paying for crates online, we provide the option of picking them up at a local depot.
Whether you're located in London and are moving within the capital or live outside and London anywhere else in the UK our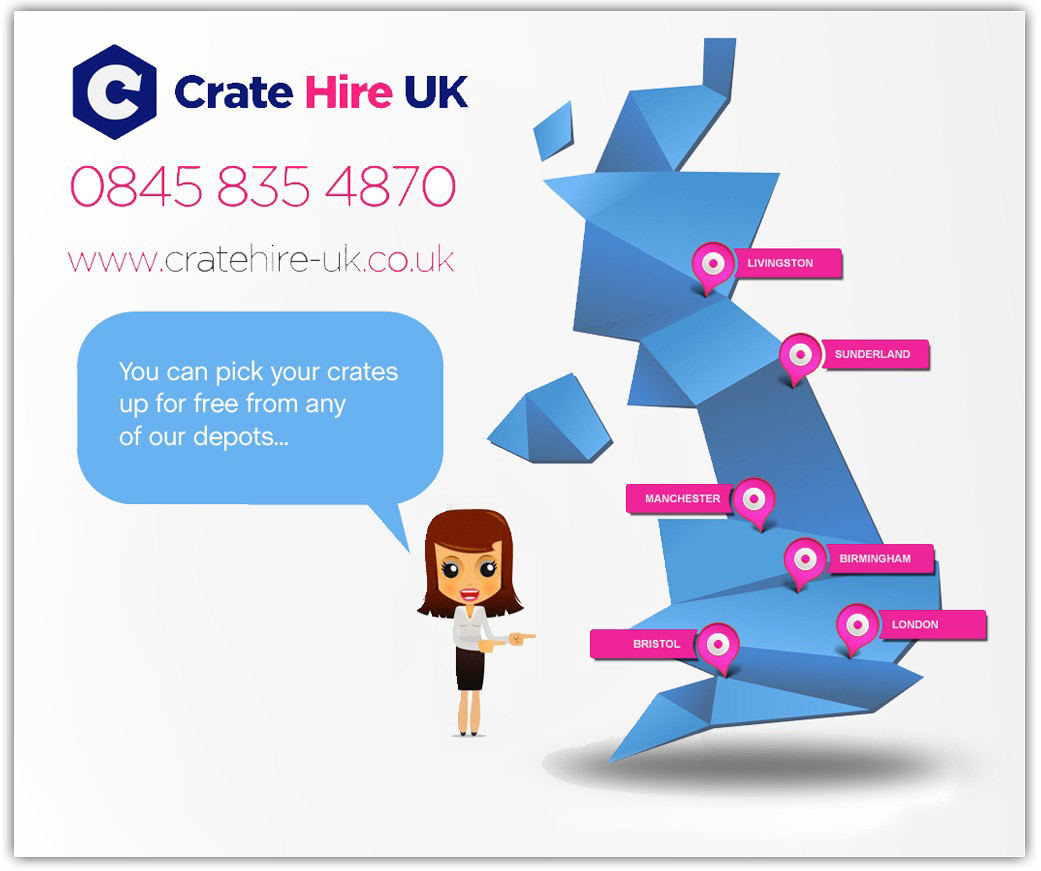 Avoid Delivery Charges By Using A Local Crate Rental Depot
Customers who do this benefit from the fact that they don't need to pay for delivery or collection. This solution helps to keep the cost of hiring down. For example, a typical hire period might be three weeks. This crate rental can work out from as little as £19.95 per week* to hire ten crates, including packaging and labels.
By choosing to pick up your moving boxes at one of our depots and returning them at the end of the rental period, customers can save a substantial amount of money.
Keep it Local To Keep Costs Down
We have numerous depots located all over the country which are conveniently situated to give our customers the option of picking up their moving boxes from us direct.
We currently have depots in Birmingham, Bristol, London, Manchester and Scotland. Whether you're looking for Crate hire in Leeds, London or anywhere else, you can use our depot finder tool here.
*This rental figure refers to our Plastic Crate Hire Package 1.
For tips and information on all things moving related, follow us on
Facebook, Linkedin, Twitter or Pinterest
Crate Hire UK – Finding A Local Moving Crates Company