Business Tips – Marketing Your Businesses Move
Moving your business presents a vast number of challenges for you to contend with; the sheer volume of tasks that need to be done to facilitate a move often means that packing and logistics take centre stage and marketing tends to be forgotten.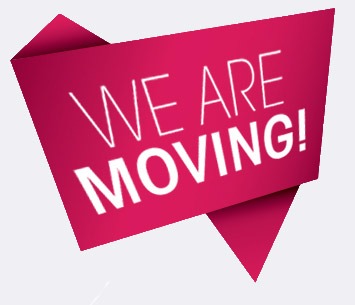 The driving force behind your move might be a need to cut your costs, so perhaps you are moving to a unit with lower rent. Maybe your lease has come to an end forcing you to find somewhere new, or you could be expanding your business and moving to larger premises.
Whatever the reasons for your move, you can guarantee that some of your customers won't be happy. People generally dislike change and perceive the process negatively so use this opportunity to spread awareness of some of the positive selling points of your new location.
You also need to ensure that you bring as many of your old customers as possible along with you when you move to the new location. You'll also need to think about how to start targeting and building a new customer base in your new area.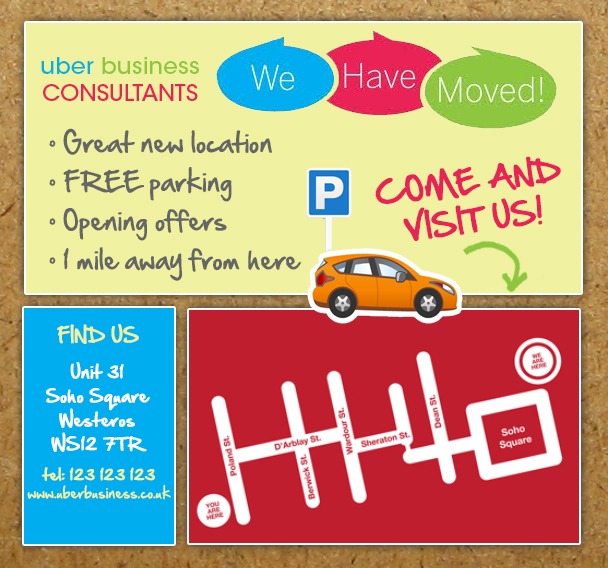 Marketing is crucial, and it need not cost you the earth. There are lots of straightforward things that you can do to keep your customers informed about your move, and you can even use the move as a way to generate some positive PR for your business too.
1. Inform all of your 'walk-in' customers that you're moving
Don't leave a scribbled post-it note on your door the day you relocate, ensure you start to raise awareness of the move several weeks before it takes place. Even regular customers might only make occasional visits to your business premises, so you want to start advertising your move at least a month ahead of the move date.
For several weeks after you move, you are likely to get customers turning up at the old location. If your old premises is vacant, then there should be no problem in leaving some signage or at least a poster up informing people of your move and providing details of your new address and contact details.
Make sure any posters or flyers you get printed state clearly when you are moving and your new address. It's also a great idea to list some of the positive features of the new location which will help to encourage people to visit you there, so pointing out things like free parking or a bigger range of products is a great idea.
When customers come in to see you in the weeks before your move, make sure you have a flyer they can take away with them that gives them all the information they'll need to know.
Vital information to tell your customers
The date of your move
Address of your new location
Opening date at your new location
Your revised opening hours
Contact details
Map and directions
Positive selling points of new location
Flyers and an advert in the local paper, posters, a landing page on your website, blog or news posts and social media posts should cover all significant bases.
2. Promote your arrival in a new area
A great way to celebrate opening up your business in a new place is to have an opening event. Either a 1-day grand opening event or perhaps a weekend or a full week of sales that will help drum up interest in your business and will help spread awareness.
Publish a voucher code on your website or a daily deals website giving people a discount
Do some outside advertising, hand out flyers and balloons in the town centre, book a billboard, or advertise on the side of local buses or taxi's
Place an advert in the local newspaper and tempt people in which a special opening offer
Hold an event for other local businesses so you can get to know each other
Give new customers a special welcome gift or offer
3. Update your website contact page
Make sure that you update your website's contact or find us page as soon as possible with detailed information on your new location and if you are nearby, give people directions from your old site, so they become familiar with to your new business address.
4. Use your blog and social media
Creating a unique landing page for your website is a great idea, or failing this, make sure you write a blog or news article about your forthcoming move. You can put a banner on your homepage to give your relocation added visibility and then you can post about the move across your various social media channels too.
5. Update all of your online business listings
Updating all of your contact details in the many online and print business directories can be a long and laborious process. Start by making a spreadsheet and noting down all of the websites that list your businesses details – you need to think of Yell, Scoot and so on but a general search in Google for your business name should reveal most of the other websites that link to you.
6. Email your customers
Use the power of your mailing list to let all of your previous customers know about your move and new location; this is also a great way to encourage lapsed customers to use your services or buy from you again.
For tips and information on all things moving related, follow us on
Facebook, Linkedin, Twitter or Google+