1/2 Price Delivery In July!
OFFER NOW ENDED
To celebrate the start of the Summer, we have knocked a whopping 50% off our usual delivery charges! This offer means that you only pay half the usual price to have your moving crates delivered in July!
How the promotion works
You don't need to enter any voucher codes, go and choose your boxes and go through the checkout process – on the right-hand side you will see more details of the 1/2 price delivery promotion and your delivery charge will be calculated based on your order and delivery requirements.  50% will automatically come off the cost of delivery.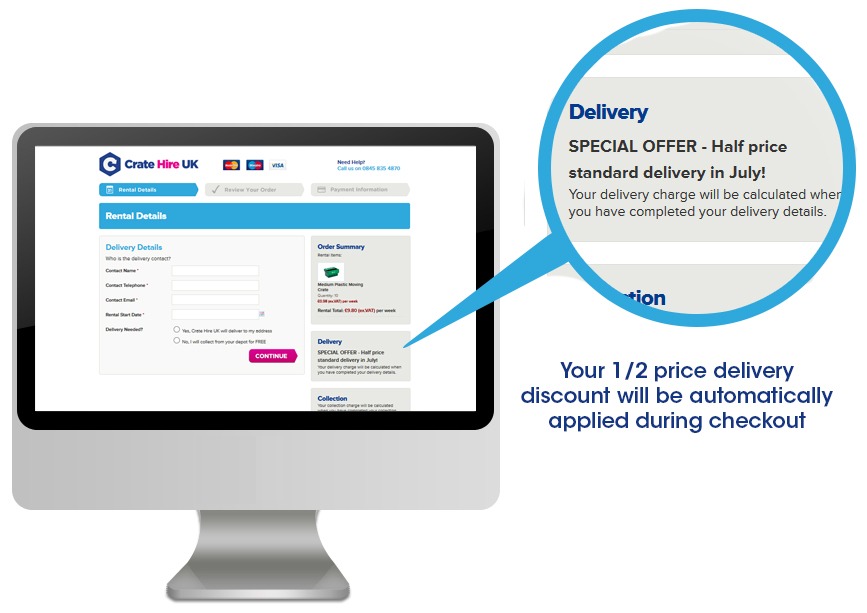 Of course, you still have the option of collecting your crates and crate handling equipment from us free, by using our depot collection and return service. Get started by using our depot finder.
Terms & Conditions
This promotion applies to delivery only, the cost of arranging for your crates to be picked up by us remains unaffected by this promotion. This promotion ended at midnight on July 31st 2013 – this means that your crate delivery date must occur before this date to be eligible for the 1/2 price delivery offer.
If you have any questions, please don't hesitate to get in touch with us.
For tips and information on all things moving related, follow us on Facebook, Linkedin, Twitter or Google+