Big Crate Hire Discounts For Schools, Colleges & Universities
Crate Hire UK are proud to support the education sector. We provide the best value crate hire service you'll find in the UK!
With the continued pressure to save money and funding cuts in many areas of education. We understand that budgets are tight and that schools, colleges and universities need to get the best possible value for money when it comes to procuring goods and services.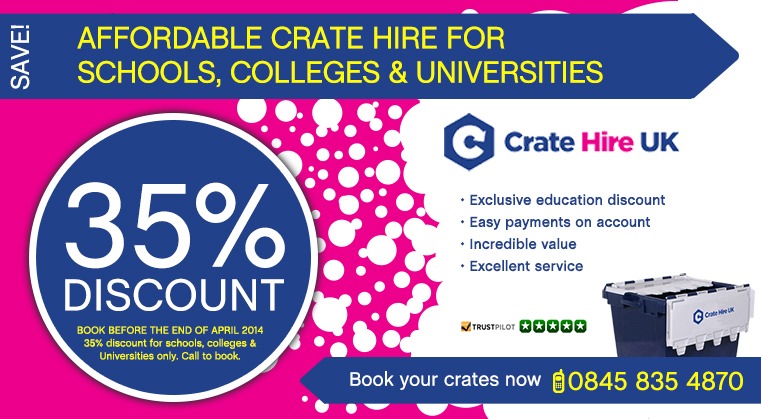 Many educational establishments will be undergoing refurbishment. Teaching departments and faculties get moved, offices and staff rooms get changed, and brand new premises built.
Plastic storage crates from Crate Hire UK provide the ideal solution. Providing your schools, colleges and universities with lots of different practical options; from sturdy, stackable plastic boxes through to covers for IT equipment.
All of our moving and storage products are designed to help you store and move the contents of classrooms, offices and learning environments more efficiently.
Great Reasons Schools, Colleges & Universities Should Use Crate Hire UK
Exclusive 35% discount
Easy payments on account
No checks or waiting necessary
Incredible value for money
Excellent customer service
We are rated five stars by our customers on Trust Pilot
How To Get Your Discount
While we do provide secure online ordering; we request that to take advantage of our schools, colleges and university discount, that you give us a call to make your booking.
Book your crates now on 0845 835 4870
For tips and information on all things moving related, follow us on
Facebook, Linkedin, Twitter or Google+