We're not really ones to blow our own trumpet, but we're very proud to be rated 'excellent' by our customers on Trustpilot. Whilst we know we work hard to deliver the best possible levels of customer service, it's independent reviews that really help to confirm that we're on the right track, reassuring us that our commitment to providing high levels of customer service really does shine. Read on for some of our latest Trustpilot reviews.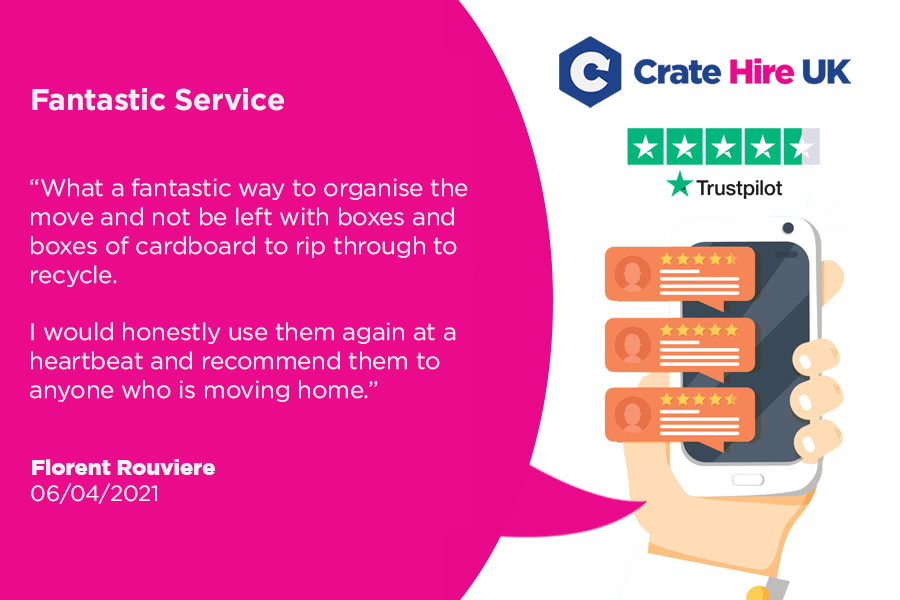 Amazing service, easy to hire, clear prices and incredibly easy to contact to make changes… what initially started out as a 2 month hire turned into 6 months, the ease to update the hire with the email messages was precise and easy… I can't rate this company enough from the quality of the crates, to the friendly drivers to the incredibly helpful staff… thank you !! X
Mr Cain 2 April 2021
I would highly recommend this company to everyone moving home. Excellent service, flexible hire (I had to postpone my moving date and only had to give 1 day notice for revoking the delivery).
Using crates instead of carton boxes is so much more speedier (no need to build) and they get taken away after you unpack. They also recommended an amazing removal company which was able to book us in at 2 day notice. Will use again if I ever need to move again.
Veronika 8 March 2021
Great service delivered and collected on time and pleasant staff
Suzanne Mabb 14 January 2021
Excellent service provided throughout our rather elongated office move. The last minute extension to our crate hire didn't cause any issues and the drop off and pick up went like clockwork.  I would thoroughly recommend this business.
Derek 29 December 2020
Booking app was easy to use and notifications were good. The movers were communicative. They arrived late but also finished early which was great. Overall excellent service A+
Ms. Ong 24 November 2020
I was very pleased with Crate Hire UK! We hired 25 crates for a flat move and they were really great as they are easily stacked and you don't have to worry about things breaking inside.
The delivery and collection were both very smooth and it was just so much easier and more environmentally friendly than dealing with cardboard boxes. Would definitely use them again for a flat move and would recommend to anyone.
Elizabeth 29 September 2020
Could not have made my move easier. Friendly and professional. No hassle all ran smoothly. Thank you.
Dawn Wadley 11 September 2020
A thank you from Crate Hire UK
We'd like to take this opportunity to say thank you to all of the customers who have taken time out to leave us reviews. We know that your time is precious and that these days you're probably bombarded with requests to write reviews for companies that you purchase from, so we really do appreciate your time and effort as well of course, as your custom.
Thanks so much for choosing Crate Hire UK! You can see all of our Trustpilot reviews here.


For tips and information on all things moving related, follow us on
Facebook, Linkedin, Twitter or Pinterest