Ellesmere Port Welcomes William Sinclair
William Sinclair relocating to Ellesmere Port in a phased relocation
The currently based Lincoln Horticultural firm William Sinclair, is to relocate to Ellesmere Port in Cheshire. William Sinclair will be moving their current Head Ofiice to a new 41 acre site based on New Bridge Road.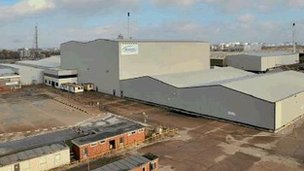 The new site is close to to the M53 which allows for easy access to the main UK road network and the additional space lends itself to future expansion.
The site is being purchased from Morley Estates for £4.75 million pounds and the relocation will take place over a five year period. The relocation will create up to 250 jobs for the local area and follows news that the Vauxhall plant nearby is to recruit up to 700 staff after winning the contract for the new Astra model. Jaguar Land Rover is also creating 300 jobs at a new parts warehouse in the area.
Everybody at Crate Hire UK, wishes William Sinclair the smoothest of office relocations.
For tips and information on all things moving related, follow us on Facebook, Linkedin, Twitter or Google+