Here at Crate Hire UK we always like to put our customers first, and we've worked hard to make sure that our website makes it super quick and easy for you to get the information you need to get your crates hired and delivered with the minimum of hassle.  Let's face it, moving house, office or attending a trade show or exhibition can be stressful enough as it is!  With our help, you'll get your packaging and storage needs covered, so you've got one less thing to think about.
We think there are loads of great reasons to shop online with Crate Hire UK, so we've highlighted a few of them for you below.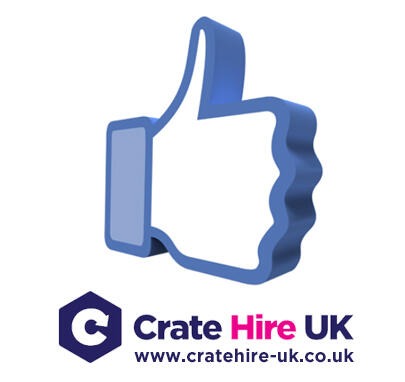 1. Choosing and booking crates is easy
We have a range of options available, from individual containers in different sizes you can hire, right through to set hire packages containing multiple boxes and essential packaging materials that provide you with everything you need to move. From large, lidded individual plastic crates, right through to deluxe house moving packages, our website makes it easy for you to see what's available and place your order.
To work out how many crates you will need to use our handy Home Move Calculator or why not give us a call on 0845 835 4870 or even follow us on @cratehireuk Twitter, no matter how you'd prefer to get in touch, we'll be delighted to help!
2. Flexibility
Would you like to have your crates delivered to your door?  Would you prefer to pick them up from one of our local depots?  Do you have particularly complex hire needs?  Need your crates super fast? We can help you!
We provide you with numerous rental options, from individual boxes to crate handling and moving equipment, right through to set hire packages and bubble wrap.  We've got it all. If you decide that you want to keep your crates for longer, that's not a problem either, extending your booking can be done online and is quick and easy!
3. Great value for money
Our crates start at a really competitive and highly cost-effective 70p per week.  Plastic moving crates offer many distinct advantages over boxes, including the fact that they tend to be much sturdier, are ideal for stacking and can usually be filled with heavier contents.  When you hire plastic crates, it also means that you don't need additional packaging materials like a tape dispenser and tape.
4. Excellent service
We aim to provide you with the best levels of customer service that we can, and we are delighted that our customers are consistently happy with the service that we offer.  Don't just take our word for it though, take a look at our Customer Crate Hire Reviews page to see what our customers think about us!
Our service is always speedy, so even if you've left it to the last minute and are in a bit of a panic, we can usually help with just a couple of days notice.
5. Follow us for discounts
Our customers are important to us, and we understand that knowing what our customers want and think about our services helps to ensure we are providing the very best service possible! We have thriving communities over on Twitter, Pinterest and Google Plus that we'd love you to be a part of too.  We are also active on LinkedIn and on Facebook too and often publish exclusive money saving voucher codes, exclusively for our social media followers so if you haven't joined us on social media yet – join us today!
If social media isn't your thing, then why not join our mailing list and we'll email you from time to time with news and special offers.  You can unsubscribe from our mailing list at any time, and we promise not to fill up your email inbox with lots of nasty mail!
So there you have it, five great reasons to use Crate Hire UK!
Get started here or give us a call on 0845 835 4870 now!
For tips and information on all things moving related, follow us on Facebook, Linkedin, Twitter or Google+