10 Marketing Tips for Small Businesses
Let's face it, running a small business isn't easy; with so much to do and often with limited resources, marketing your business effectively can often be overlooked.  These top 10 marketing tips will help you to keep your marketing on track and ensure strategically driven activities, resulting in higher efficiency.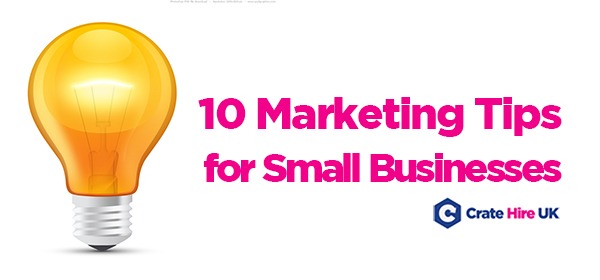 1. Give your business some personality!
By giving your business some personality, your customers will find it easier to identify with you.
2. Use consistent visual styling and branding
A clear brand helps to build trust in consumers and makes you stand out from your competitors.
3. Define your USPs, core services, goals and vision
Figuring out and clearly defining what your USPs and goals are will help you to identify and connect with your target audience.
4. Use social media to raise brand awareness
Social media makes it easy to reach past and potential customers, allowing you to nurture relationships and drive trust & interest in your brand.
5. Multi-channel communications give you power
Amplify your messaging and reach by using all the marketing channels available to you.  Don't just promote something on Facebook. The same promotion will have much greater reach if you push it across all your social networks, on your website, in your blog and via email.
6. Make sure your website is usable
Driving customers to your site would be pointless if your website doesn't provide visitors with a positive user experience.  Make your website clear and easy to use. Make sure it's easy for customers to contact you, find what they are looking for and make a purchase or enquiry.
7. Track and measure everything you do
Use tracking tools like Google Analytics and define KPIs so you can measure the results of activities to determine those who are most effective.  Once you track what you do, you'll see which of your activities work and where to invest in the future.
8. Calls to action are important
Make it super easy for your customers to complete desired goals. By using strong calls to action to attract their attention and influence their actions.
9. Improve the clarity and intent of messaging
Make sure your message is clear and concise; giving people too much information can lead to confusion.
10. Define your objectives
Take a strategic approach to set objectives before you start activities. This approach will help you to plan how to achieve your goals and measure results best.
For tips and information on all things moving related, follow us on
Facebook, Linkedin, Twitter or Google+