When selecting boxes for moving house, the traditional cardboard box has been the go-to choice for home movers for many years. It is only recently that a new rival has emerged, in the form of the sturdy plastic moving boxes.
Crate hire has seen a boom in recent years, with many home movers switching over from cardboard to plastic, but which is the best choice to pack your belongings? To help home movers make the right decision, we pit the cardboard box against it's more modern rival to see who comes out on top.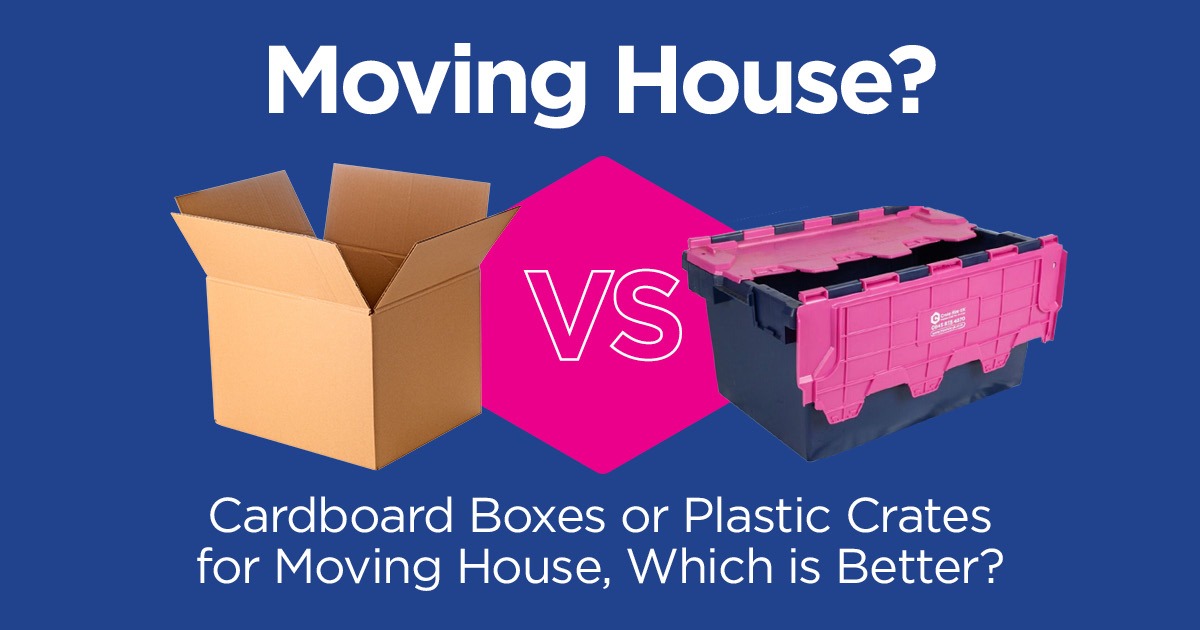 Durability
Plastic Crates
When it comes to durability, plastic crates have a clear advantage over cardboard, made from high impact material; they are sturdy enough to house even your most precious belongings during the move. Heavy items are also not an issue as the bottom of the crates are unlikely to give way under all but the heaviest load. UK residents will be familiar with keeping one eye on the weather as the moving date approaches; rain can put a dampener on moving day. Plastic crates are weather resistant, so you can be assured that your possessions will stay dry, even if you don't.
Cardboard Boxes
Cardboard can be sturdy, providing you buy quality boxes and avoid cheaper options. However, compared to plastic crates, they are at a clear disadvantage. Plastic is inherently more durable than even the best quality cardboard and would, therefore, offer better protection during your move. Unlike plastic crates, cardboard boxes are unlikely to stand up to wet weather and would need additional protection to keep your belongings dry.
Winner: Plastic Crates
Availability
Plastic Crates
As the newcomer, plastic crates are not as widely available as their cardboard counterparts. Opting to use plastic boxes for moving house means renting them from a crate hire company. These companies are known for offering efficient and flexible delivery and collection services, so your crates can be delivered to your door, as and when you need them and promptly collected once you have finished your move.
Cardboard Boxes
The beauty of choosing cardboard boxes for moving house is their availability; they can be found everywhere, from freebies in supermarkets to specialist online stores. Cardboard boxes are available in all shapes and sizes so you will never be struggling to find a box to suit your needs. The ease of sourcing your boxes combined with avoiding the rental costs associated with plastic crates gives cardboard a clear advantage.
Winner: Cardboard Boxes
Speed and Efficiency
Plastic Crates
As a rigid object, plastic crates require no assembly before use, this makes using plastic boxes for moving house a quick, efficient and stress-free process. A huge selling point for movers with children or commercial movers where time is of the essence. Just fill your crate, add a label, close the lid, stack and repeat.
Cardboard Boxes
Cardboard boxes are supplied flat; this is great for storing them when empty, but building each box individually before your move, can quickly become tedious. The labour-intensive process of making each box, taping the seams, filling, labelling and taping to close, means using cardboard boxes for moving house is far slower and less efficient than with plastic crates.
Winner: Plastic Crates
Re-usability
Plastic Crates
Plastic crates are built to stand the test of time, their durability and resistance to weather mean they can be used over and over again. They are incredibly efficient and used for a multitude of purposes, including storage, transport and of course, future house moves. Unlike cardboard boxes, they don't have to be assembled before use; they can be stacked inside one-another when not in use or stacked on top of each other for efficient use of space.
Cardboard Boxes
The less durable nature of the cardboard box also affects its re-usability. Cardboard is prone to bumps, tears and soggy bottoms when wet, making it's usefulness following a frantic house move less promising. If your boxes do survive move day in a usable condition, they can be reused in the same manner as their plastic rivals, providing you keep them dry.
Winner: Plastic Crates
Cost
Plastic Crates
Crates are slightly more expensive than cardboard boxes, but when it comes to boxes for moving house, the choice is not as clear-cut. Of course, the boxes themselves carry a premium, the material and manufacturing process is expensive, and this is reflected in the price, add in rental costs and cardboard boxes seem like a far cheaper option, but are they?
Cardboard Boxes
Cardboard boxes are cheap to buy, far cheaper in fact than their plastic rivals. When you buy cardboard boxes, you own them, no rental costs and you can write directly on the box, so no need to buy labels. At this point, cardboard looks like the most affordable option. However, if you start to factor in the additional packaging you will need to protect your belongings, packaging tape, your time to build each box and the disposal costs once finished; somehow, plastic crates look like an affordable alternative.
Winner: Draw
Verdict
Both cardboard boxes and plastic crates make ideal solutions for moving house. But the benefits of durability, speed, efficiency and weatherproofing make it hard to recommend anything but the plastic crate. For the home mover on a budget, there is no doubt the humble cardboard box would do a fantastic job. But if you have the choice, hiring plastic crates would make your move speedier and less stressful, and as a result, we believe plastic crates are the best boxes for moving house.
We hope you found this comparison helpful and that it gives you some guidance when choosing your boxes for your next house move. Take a look at our extensive range of moving crates for sale.
For tips and information on all things moving related, follow us on Facebook, Linkedin or Twitter